Frankenstein beyond 2000

Dean Koontz' Frankenstein (2004)

The year 2004 saw the release of two Frankenstein films at practically the same time. Although both were produced for TV, they are completely different in their approach concerning story, style and setting. While Hallmark Entertainment's Frankenstein mini series is a faithful retelling of Shelley's novel, USA Cable Network's Frankenstein film adapts a novel by Dean Koontz, which is some sort of modern day sequel to Shelley's original work.

If only Karloff had looked like him: Vincent Perez as Deucalion,
the first Frankenstein monster
Synopsis:

Detectives Carson O'Conner and Michael Sloane follow a series of grisly murders in New Orleans, where the victims are dissected and organs are removed in bloody fashion. They soon get help from a mysterious man named Deucalion, who turns out to be Frankenstein's first creation and has been roaming the earth for 200 years. He reveals to the detectives that his creator is a famed scientist named Victor Helios, who also lives in New Orleans and mysteriously has managed to extend his lifespan. Having achieved near perfection, Helios now produces artificial beings on a large scale, who populate the city and live among the humans unrecognised. These creatures are much stronger than humans, yet they seem to have a longing for death, although they are unable to end their own lives. Aided by Deucalion, who exclaims, "I am not the Monster anymore. I am your best hope", Carson and Sloane discover the identity of the serial killer: fellow detective Harker, who actually is one of Helios' creations. Being denied the ability to recreate, Harker begins to kill off Helios' creations as an act of rebellion against his creator. Striving to create the perfect mate, Helios meanwhile kills his (artificial) wife Erika who is unable to satisfy him, and replaces her with a new wife created in his laboratory.
Carson is finally able to track down Harker in an abandoned factory. When she fails to shoot him, Deucalion arrives just in time and throws Harker from a platform to his death. Deucalion and Carson finally decide to work together to stop Helios from populating the whole world with his race of artificial humans.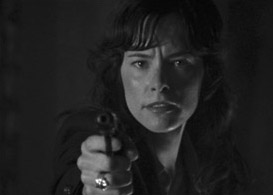 Like Scully and Mulder: Detectives Carson O'Conner (Parker Posey) and Michael Sloane (Adam Goldberg)
Here Frankenstein, or rather Helios, has finally achieved what Mary Shelley's hero only imagined: he is populating the world with a race of his creations, superhuman in strength and seemingly perfect. Helios regards himself as their God, which is emphasized in several conversations he has with a priest, who actually is also one of his creations. Knowing that the priest is hiding fugitive Harker from him, in one scene Victor asks him, if he believes that one can lie to his God. Of course in this case "God" refers to Helios and the priest painfully has to discover, that nothing can be kept from his creator when he ultimately has to pay with his life for his betrayal.


A doomed relationship:
Victor Helios (Thomas Kretschmann) and Erika (Ivana Milicevic)
Of course it is not always that easy for Victor Helios to kill his creatures. Before he drowns his wife Erika, hopelessly suicidal and regarding herself a failure, he lovingly kisses her and admits, "This is difficult for me. I am a creator, not a destroyer." But he also assures her that because of her sacrifice there will be a better, a perfected future.
Director Marcus Nispel's film makes references to Shelley's book several times. Once Sloane asks Carson if the killer is some sort of Frankenstein, and she answers that Frankenstein is the doctor, not the monster - a nod to the widespread misconception of the Frankenstein myth where the creature is referred to as Frankenstein.
Deucalion later reveals to Carson, "Frankenstein is fiction based on fact. That fact is Victor Helios." This implies of course that Victor Helios is in fact the scientist on whom Shelley modelled her fictional character Victor Frankenstein. Therefore the movie assumes that the story of Frankenstein as conceived by Mary Shelley, is partly based on true facts. This almost post-modern approach puts Nispel's movie in line with Brian Aldiss' novel Frankenstein Unbound, adapted for the big screen by Roger Corman in 1990, and centered arounda similar conception.
Based loosely on Dean Koontz's series of Frankenstein novels, this was supposed to be the pilot to an ongoing weekly TV series, co-produced by Martin Scorsese. Due to artistic differences, Koontz left the project and it was stopped with only the pilot completed. This is rather sad, since the film is one of the best continuations of the Frankenstein stories in many years, ripe with interesting ideas blending traditional and modern horror elements with The X-Files, and technically well-executed by music video director Marcus Nispel, best known for his remake of the Texas Chainsaw Massacre. Drenched in a morbid atmosphere taken straight from David Fincher's Se7en, Frankenstein's muted color palette and rapid MTV-style editing create an eerie mood of contemporary gothic horror. Thanks to the excellent cast the film often belies its low budget and it is really a pity that after 90 minutes no conclusion is offered. The cliffhanger ending leaves the viewer unsatisfied, hoping that ultimately at least a sequel will be produced.
Cast & Crew:
Carson O'Connor
Parker Posey
Deucalion
Vincent Perez
Viktor Helios
Thomas Kretschmann
Harker
Michael Madsen
Michael Sloane
Adam Goldberg
Screenplay
John Shiban
Dean Koontz
Music
Normand Corbeil
Cinematography
Daniel Pearl
Producers
Marcus Nispel
Martin Scorsese
Kimberly Anderson
Director
Marcus Nispel
Frankenstein (2004)

Hallmark Entertainment's 4-part TV mini series has often been hailed as THE most faithful retelling of Mary Shelley's novel to date. Unlike Kenneth Branagh's 1994 movie, which made similar claims, director Kevin Connor's version adapts the novel without making any major changes. It contains all the important episodes from the novel, even the narrative frame with Robert Walton is intact. Apart from giving away the secret of life – once again Victor Frankenstein uses electricity created by a thunderstorm to bestow life upon his creature – screenwriter Mark Kruger has not added any new plot devices such as the re-animation of Elizabeth in Branagh's film.

| | |
| --- | --- |
| Kevin Connor's version carefully recreates the 19th century period settings and beautifully designed costumes. However, much of the realism is lost due to the fact that here everything looks a bit too clean and sanitized. Being a rather colorful movie, it is far removed from the horror of other adaptations. Emphasizing the melodrama, Connor gives more space to the love story between Victor and Elizabeth, playing down the gothic horror elements and violence. Clerval and Professor Waldmann, who repeatedly warn Victor of the possible consequences of his doings, also get much more screen time than in previous movies. This adaptation focuses not on the action but on character development and psychology. This approach might scare away horror buffs, but since Shelley's novel has never really ranked as a horror story, it is ultimately a more faithful adaptation than most before. | Victor (Alec Newman) cannot convince Professor Waldmann (William Hurt) to help him bag some leftover body parts |

Here the portrayal of the monster also differs from most other adaptations. Former pop singer Luke Goss plays the monster as a pitiful, kind creature, filled with sadness rather than anger. There are many such instances where the audience witnesses the monster's misery. When the blind man and his granddaughter give him food, he bursts out in tears because they are the first people who have treated him with such sort of kindness. When he takes Justine's hanged body down from the gallows, he apologizes to her. In his conversation with Victor it turns out the monster killed the boy William accidentally, in fact he never wanted to harm him. However, when he planted the medallion on Justine, he clearly states that he condemned her to hurt Victor. Speaking with a soft voice and calling Frankenstein "father", the creature rarely is a menace, but rather the one the audience sympathizes with. When he sees his future bride, lifeless on the operating table in the lab, the monster promises to her how he would show her love and care for her. His disappointment and anger becomes perfectly understandable, when instead of giving life to the bride, Victor burns her in front of his creature. This is finally the point, where the monster's sorrow turns to hate.

| | |
| --- | --- |
| Is he the singer of a Finnish black metal band or Frankenstein's monster (Luke Goss) | The ensuing path of revenge – the creature kills both Clerval and Elizabeth – and Frankenstein's hunt for the monster, who keeps leaving hints for him to follow all over Europe, is a welcome change of pace. The melodrama is replaced by more action that only ends when the monster finally finds dead Victor Frankenstein on board of Walton's ship and disappears into the arctic ice carrying his creator's body, after having explained his motives to Walton. |
Connor's Frankenstein has often been criticized as being too slow and long – with a running time of about 180 minutes it surely ranks among the longest Frankenstein films. Some might even see this first fully faithful adaptation as proof, that Shelley's novel does not translate well to the screen without major cinematic changes. But this only applies if one expects a horror movie, a conception based on earlier adaptations. If Frankenstein is seen as what it is, a gothic melodrama, then this movie does it full justice.


Is Donald Sutherland Captain Birdseye or
Captain Robert Walton?
Cast & Crew:
Carson O'Connor
Parker Posey
Deucalion
Vincent Perez
Viktor Helios
Thomas Kretschmann
Harker
Michael Madsen
Michael Sloane
Adam Goldberg
Screenplay
John Shiban
Dean Koontz
Music
Normand Corbeil
Cinematography
Daniel Pearl
Producers
Marcus Nispel
Martin Scorsese
Kimberly Anderson
Director
Marcus Nispel


The film starts out with the gruesome murder of a young woman. Next we see psychiatrist Robert Walton interviewing his patient Dr. Victor Franks, a neurosurgeon accused of multiple murders. Franks recounts to Walton how he achieved to reanimate a dead man using nanotechnology. He was experimenting with a method to re-animate dead cells and managed to make Bryce, a paralysed man, walk again. However, as a side effect of the treatment, Bryce suffered horrible nightmares. Instead of helping him Frank shot Bryce and moved the body back to his lab, where he and his assistant Hank Clerval finally brought him back to life. The horribly disfigured creature turned out a psychotic monster and killed Hank Clerval, Frank's lover Elizabeth and several other people associated with Franks.
Convinced that there is some truth in Franks' tale, Walton agrees to be taken to Franks' secret lab. There he discovers the butchered remains of several people. Finally the monster turns up and, after slaying two police officers, attacks Franks. Luckily, Walton is able to attach a cable to the monsters back and ultimate kills the creature with electricity.

Dr. Franks' team at work: Elizabeth (Eliza Swenson), Bryce (Joel Hebner),
Hank Clerval (Jimmy Rockport) and Rebekka (Christina Rosenberg)


Director and screenwriter Leigh Scott's modern re-telling of Shelley's novel claims to be faithful to the literary source. But this is only true in a few instances, e.g. the narrative structure and several names taken from the novel. Yet all these characters, especially Frank and the monster, have nothing in common with the characters from Shelley's book.
Dr. Frank is a selfish scientist, who pursues his work mainly for monetary reasons. He drives a Porsche, engages in weird sex games, abuses drugs and even kills in cold blood. He is clearly deranged and as evil as his creature, who, although able to speak, is a murderous brute, very much like that in many 1930s Universal pictures. Director Scott has stated that he was very much influenced by the Universal and Hammer Frankenstein films and therefore made Frankenstein a villain instead of a rational scientist who works for the benefit of mankind.

Creator and creation: Franks (Rhett Giles) and the monster (Joel Hebner)


As a whole, Frankenstein Reborn is a bit of a disappointment. At a running time of only 85 minutes there is surely no time for explanations or character development. It also shows clearly that the direct-to-video film was made at a very low budget, most of which was probably spent for the extremely gory splatter effects. It seems that the only purpose of most of the film's two-dimensional characters is to get killed in several gruesome ways. But where Stuart Gordon's Re-Animator mixed over-the-top violence with humour, Frankenstein Reborn simply relies on exploitative violence and nudity. It remains a minor entry in the Frankenstein history and probably will mostly cater to gore-hounds. Considering the restrained budget, Scott's film still shows technical skills and is an inspired, yet flawed tribute to both Mary Shelley and Hammer's Frankenstein series starring Peter Cushing.